IMPRESSUM
Publisher: Agency for Mobility and EU Programmes
For publisher: Antonija Gladović, MSc
Editors: Katarina Brajdić, Danijela Bočvarov
Author: Domagoj Morić
Translator: Tihana Bagić
Photos: Ivan Mijić / private photos / © European Union, 2019 (CC BY-NC-ND 4.0)
Design and graphic design: Ko:ke kreativna farma
Web Developer: Hajtek studio
ISBN 978-953-8160-15-8
We thank the institutions and our beneficiraries who contributed to this brochure and presented inspirational examples of projects implemented under the European Solidarity Corps:
Centre for Education and Rehabilitation Kamnik (SI), Zentrum für Förderpädagogik (BE), Lycée Paul Langevin (FR), Union Nationale Rurale d'Education et de Promotion de l'Est (FR), Slava Raškaj Educational Centre Zagreb (HR), Association Amazonas (HR), Siauliu Didzdvario Gymnasium (LT), The Kaunas Palemonas Gymnasium (LT)
Agency for Mobility and EU Programmes
Frankopanska 26
T +385 (0) 1 5556 498
ess@mobilnost.hr
www.europskesnagesolidarnosti.hr
Zagreb, 2021
This publication reflects the views only of the author, and the Commission cannot be held responsible for any use which may be made of the information contained therein.
INTRODUCTION
Dear headmasters, teachers and expert associates!
Thank you for choosing to open the publication "European Solidarity Corps in Educational Institutions". The aim of this publication is to present to you the European Solidarity Corps programme and the possibilities of its quality implementation in educational institutions, especially in schools.
The publication is divided into several parts. The first part consists of general information on the European Solidarity Corps programme and its structure. Then we present the benefits of implementing volunteering programmes in schools, with a special focus on previously conducted research and volunteering projects. In addition, you will have the opportunity to learn more about the impact volunteering projects have on pupils and young people in general.
Especially, in the context of the European Solidarity Corps programme, the publication also addresses the activities that educational institutions can conduct with international volunteers. Since it is a non-formal programme, which is implemented in the formal education system, in this part we address the concrete proposals of activities that you can implement with future volunteers.
Finally, the publication describes how to connect the planned volunteering activities with the school environment. Taking into account that international volunteering in schools is a novelty, at the end of the publication we bring you several examples so that you can get inspired by successful projects implemented at the European level.
Enjoy reading and we hope to see international volunteers in your school soon!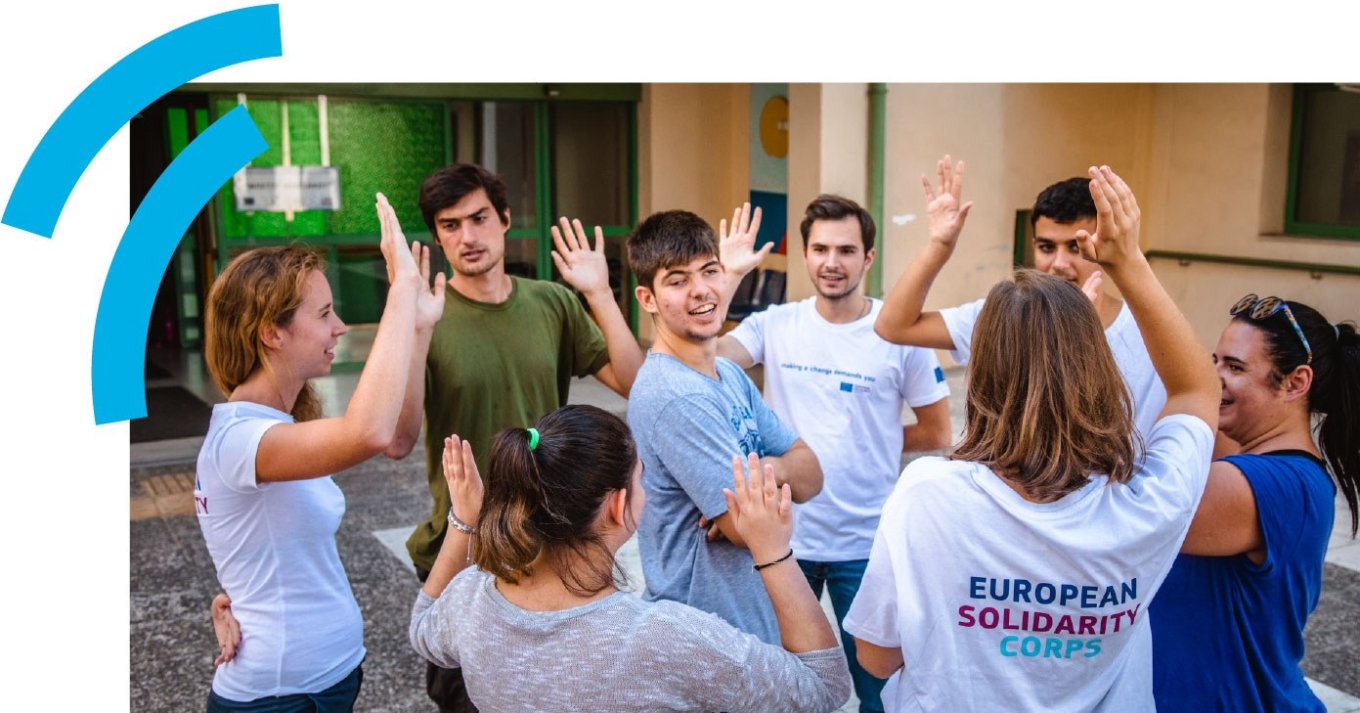 WHAT ARE THE EUROPEAN SOLIDARITY CORPS?
I volunteered because I wanted to gain a broader view of the world and improve my skills and work experience.
The European Solidarity Corps is a European Union programme that provides opportunities for young people to volunteer and participate in projects that benefit communities across Europe, aimed at strengthening solidarity.
The mission of the European Solidarity Corps is to bring together young people to build a more inclusive society and to support vulnerable persons and respond to social challenges. Young people who want to help, learn and develop are offered an inspiring and empowering experience.
Young people can engage in various projects and activities. These may be linked to public services and cover different areas, such as education, health, social integration and labour market inclusion, assistance in food and other products supply, construction of shelters, construction, reconstruction and management of sites, reception and integration of migrants and refugees, environmental protection and assistance in natural disasters.
The European Solidarity Corps programme includes these types of projects:
volunteering – through which young people are given the opportunity to volunteer for a period of two weeks to 12 months, at home or abroad, full-time (at least 30 and at most 38 hours per week)
solidarity projects – solidarity activities and initiatives in the local community.

VOLUNTEERING
Within the framework of the European Solidarity Corps programme, there is a possibility to implement volunteering projects aimed at giving young people the opportunity to respond to important social needs and contribute to the strengthening of communities by volunteering. This will enable young people to gain useful experience, skills and competences for their personal, educational, social, civic and professional development and thus improve their employability.
Young people between 18 and 30 years of age can participate in the projects. In order to participate, they must register on the European Solidarity Corps Portal.
The programme covers the following financial costs: travel costs, organisational support (support for subsistence costs such as accommodation and meals), project management support, pocket money for volunteers, linguistic support, additional support for the inclusion of volunteers with fewer opportunities, insurance, exceptional costs.
WHAT SUPPORT DO NATIONAL AGENCIES OFFER FOR THE IMPLEMENTATION OF THE EUROPEAN SOLIDARITY CORPS PROGRAMME?
National agencies organise various information activities, workshops and trainings at home and abroad, offer assistance in project preparation and project proposals counselling, and publish on their websites all information about the programme, a comprehensive European Solidarity Corps Guide and other useful guidelines. The list of national agencies is available at http://bit.do/agencies.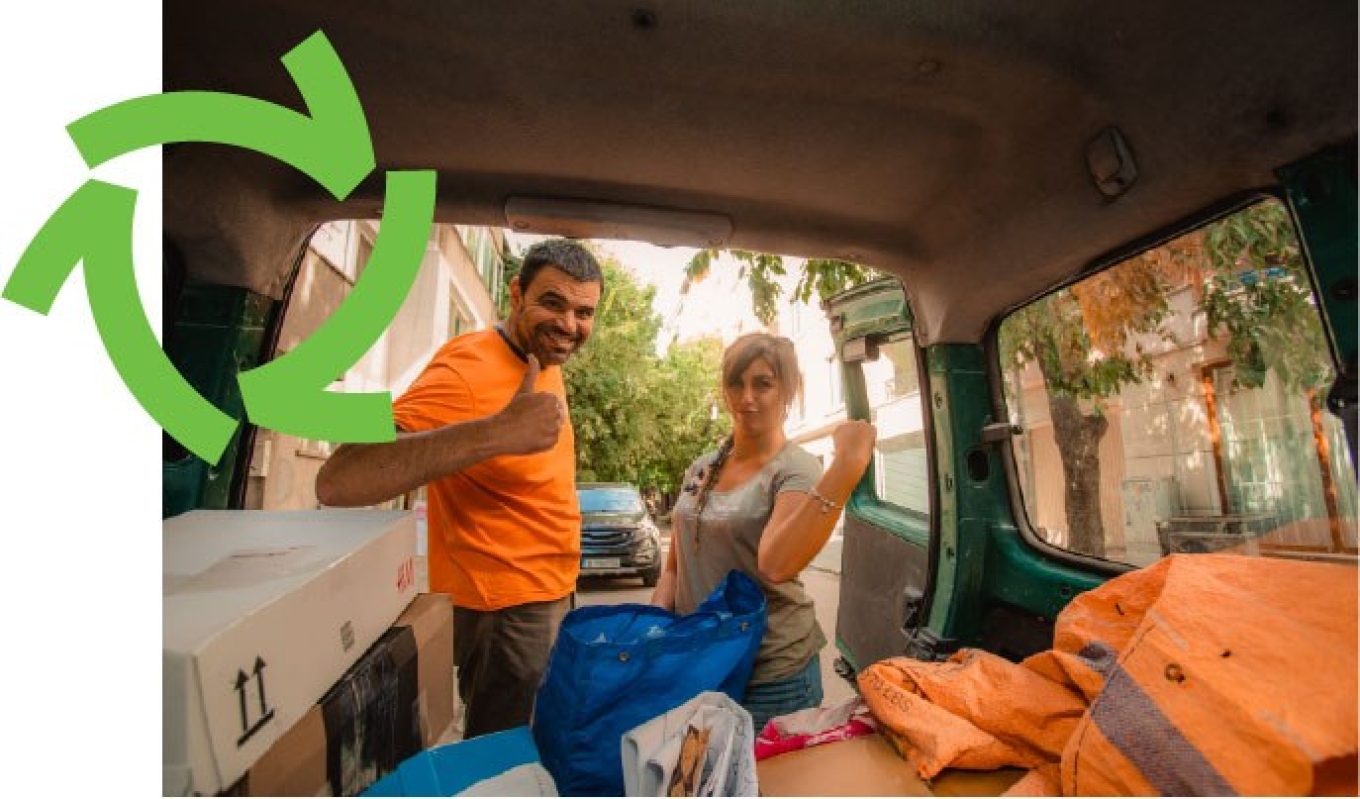 HOW TO PARTICIPATE IN THE PROGRAMME?
In order to participate in the European Solidarity Corps programme, the following steps should be taken:
1. Create an EU Login account for access to the European Commission's IT tools and platforms and then register your institution on the ORS Portal (ORS - Online Registration System) in order to get a unique organisation ID number (OID). The organisation should be registered only once and the same OID number should be used to submit all projects under the European Solidarity Corps and Erasmus+ programmes. If you have already participated in the Erasmus+ programme, you already have an active PIC number. Use it to find your OID number on the ORS Portal. With the OID number, you can access the next step.
2. Apply for the Quality Label. Institutions or organisations wishing to participate in the Programme must have a valid Quality Label certifying that they possess the capacity to implement projects in a quality manner in accordance with the quality standards and programme rules and that they planned quality activities for the volunteers. In the activities preparation process, focus specifically on the fact that the project must be needs-based, have an impact on the target group and an impact on the local community. Obtaining the Quality Label is a prerequisite for institutions to submit grant requests. The process of obtaining the Quality Label lasts about six weeks, and applications can be submitted anytime during the year. Read more on the process of obtaining the Quality Label at: https://bit.do/Quality-label
3. Submit the grant application. Once you obtain Quality label, it is not necessary to submit new project proposals, but only simplified grant application with estimation of the number of the activities and the participants.The deadlines for applications for each year (around two application deadlines per year, May and October) can be checked on the national agencies's websites. Processing applications lasts two to three months after the closure of an individual application deadline, after which the institution shall sign a grant agreement with the national agency.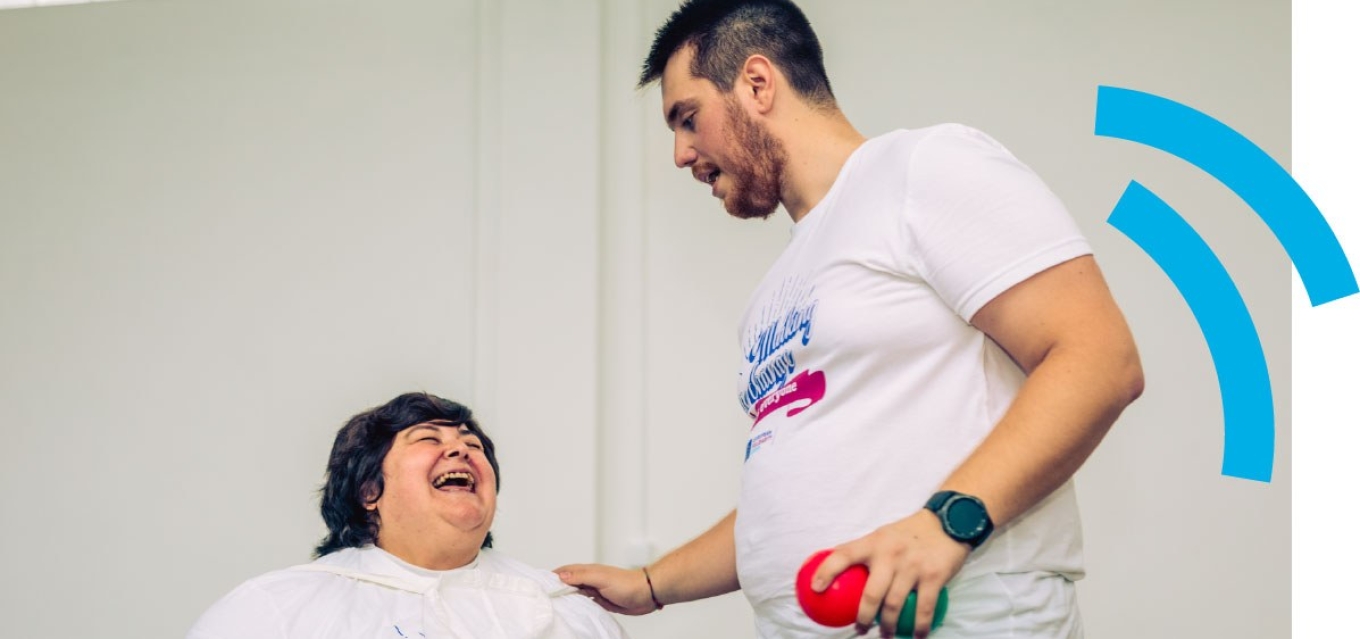 4. Find volunteers and conduct the selection procedure. The volunteers' ad should be published on the European Solidarity Corps Portal, where volunteers also have their profiles opened. This is where volunteers express interest in the project, and institutions conduct the selection of volunteers.
5. select partners. In order to participate in international volunteering projects, it is necessary to have at least two countries involved (receiving country and sending country). When submitting an application for Quality label or grant request, it is not necessary to have a partner from the sending country, but after grant request approval, it is necessary to establish cooperation with an institution or organisation from the country of origin of the participant which also has a valid Quality Label and can provide support to the volunteer.
6. Implement activities and complete the project. Together with volunteers, you implement activities in your school and monitor volunteers in the learning process. In the end, you issue a Youthpass certificate to the volunteers and prepare the final project report.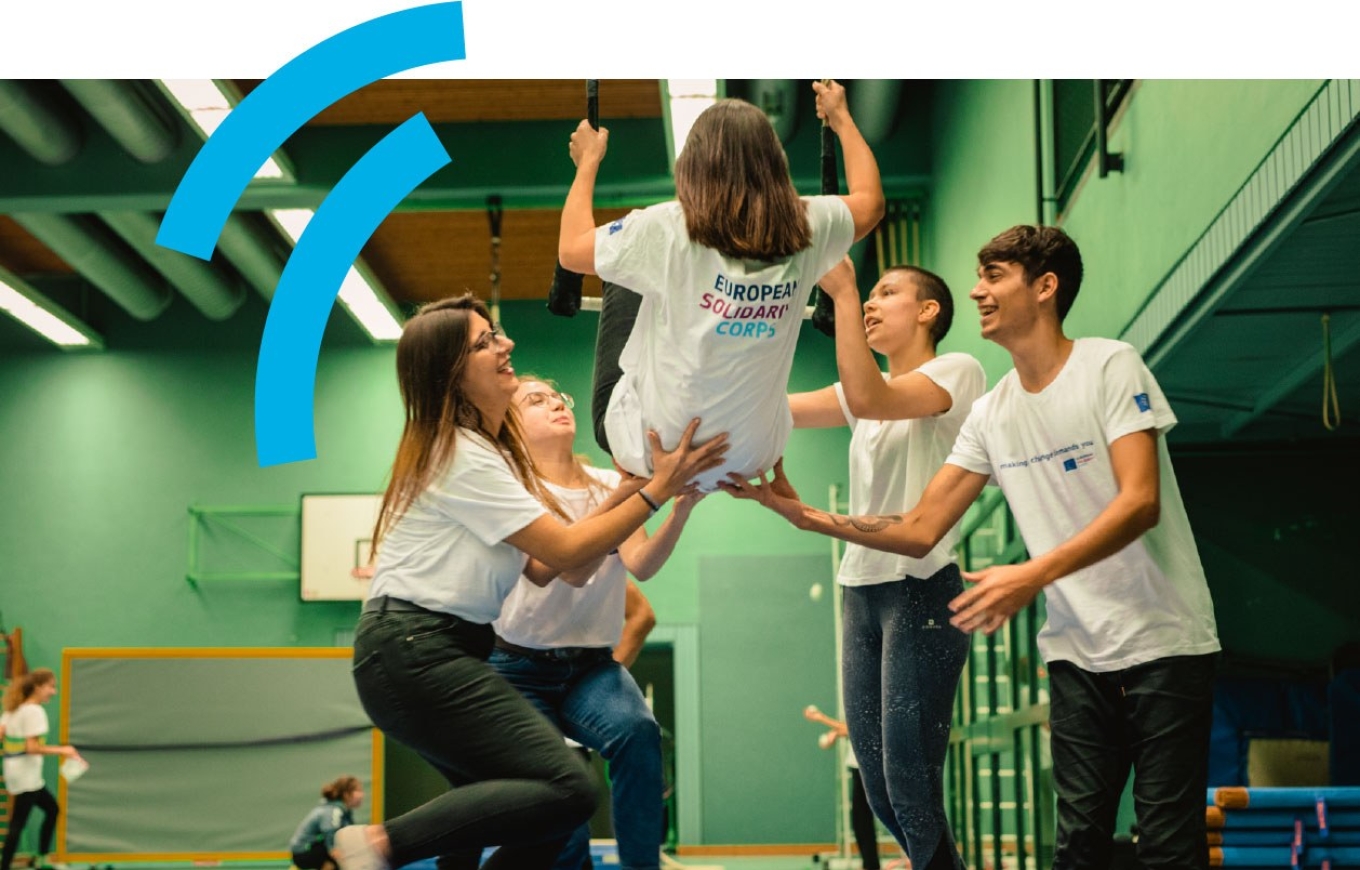 WHAT ARE THE BENEFITS OF INTERNATIONAL VOLUNTEERING AT MY SCHOOL?
The introduction of international volunteers to school is a process that requires careful consideration of various issues, such as:
which activities will the volunteer implement
what the interaction with the pupils will look like
how to best integrate volunteers into the work of the school, but also the local community
what impact will the work of external volunteers have on the local community
how to ensure a pleasant and productive working atmosphere
how to implement practical details related to the stay of volunteers (e.g. accommodation, meals or transport).
Although finding answers to these questions can be challenging, international volunteering, at the same time, has many benefits for the school, from increasing competences of pupils, teaching and non-teaching staff to improving the school's public image. Below we bring some of the benefits the school can have by implementing international volunteering projects.
Increasing pupils' intercultural competences
With the arrival of international volunteers, you give your pupils a unique opportunity to meet a young and proactive person from abroad who decided to spend part of their time helping others. Since pupils carry out activities together with an international volunteer, their intercultural competences, as well as understanding of others who are different increase and the awareness of the importance of mobility raises. Pupils also develop an awareness of the importance of learning about other cultures and customs and can compare them with their culture. In this way, outcomes of many cross-curricular themes, such as citizenship education or personal and social development are achieved.

Increasing the knowledge of foreign languages of pupils, teachers and expert associates
Pupils who will be included in the activities carried out by international volunteers improve their competence in foreign languages, particularly English. Since school staff will also be in contact with volunteers, their knowledge of foreign languages also improves. Volunteers often organise free language courses in languages spoken in the countries they come from. Through such non-formal courses, all participants can improve their knowledge of some new European language.
Increasing capacity for action at the international level
Through the introduction of international volunteers in educational institutions, capacities for action at the European or international level are also increasing. As you are managing the project, the level of school expertise in project implementation will increase, and partnership with another school or organisation can strengthen your visibility at the international level. Therefore, the school is positioned as an important actor in international volunteering at the European level.
Increasing the financial capacity of educational institutions
By implementing projects in the field of the European Solidarity Corps you can get important funding for materials that are important to you in the implementation of various workshops (e.g. office and IT supplies, papers, markers, felt-tip pens, glues, etc.). In addition, some of the funds can be invested in current school operating costs, which certainly helps raise the financial capacity of your institution. It is important to mention that volunteers help implement activities for which additional funding should otherwise have to be provided, which also has an important impact. Therefore, by introducing international volunteers, you build your own financial capacity and ensure the implementation of additional activities for pupils that should otherwise be paid for.
Improving public image and brand
School is not an island – school operates in the local community. Your local community should know what is going on within the school, what activities are carried out in the Volunteer club or other extracurricular activities, which are important for residents living near the school. International volunteers can certainly contribute to the positive image of the institution because they share their experiences with all interested parties, including residents of the local community. The institution's best advocates are employees and volunteers because they will pass on what is happening at school by word of mouth. Many international volunteers also write their own blogs or publish their stories in the media, which certainly has a positive impact on the public image of the school.
A more modern and dynamic working environment in educational institutions
International volunteers enrich school work on several levels. Since the European Solidarity Corps programme is a non-formal programme, volunteers can participate in a series of activities that are not included in the formal school curriculum. This means that they can conduct extracurricular activities, activities in clubs or other activities organised by the school. This approach means that you are introducing a more modern working environment. It is important to note that by introducing a foreign volunteer, communication will also have to be adjusted because certain activities will be conducted in a foreign language. Although this means that you will need to adapt a part of the organisation culture, on the other hand, it helps pupils develop their knowledge of foreign languages. International volunteers can also help in a more dynamic working environment of the school, and the activities they implement can improve mutual relations at the school level, especially between teachers and pupils.
Become pioneers in the introduction of non-formal programmes into the formal education system
The introduction of external volunteers into the everyday work of the school is a novelty in many countries implemented by a small number of schools, supported by EU funds and programmes and civil society organisations. The introduction of international volunteers into the school's work is still in its infancy and by implementing such a volunteering model you might be among the first in your country. This would position the school in the local community as an innovative and modern institution that wants to internationalise its work.
WHAT IMPACT DO VOLUNTEER ACTIVITIES HAVE ON SCHOOLS AND THE LOCAL COMMUNITY?
From the previous chapter related to the well-being of international volunteering activities, we can infer many impacts on the local community and educational institutions.
Some of the impacts at the school level are:
higher quality, modern and better school environment
increased competences of all involved in the implementation of volunteering: pupils, teachers and expert associates
increased pupils' understanding of mobility opportunities
better psychological well-being of pupils: increased level of self-esteem and self-efficiency, as well as easier dealing with anxiety and stress
increased pupils' social capital: by meeting international volunteers pupils expand their contact network
increased knowledge and skills in various fields, with particular emphasis on human rights, tolerance and acceptance of diversity
increased motivation: pupils want to learn a new language (or even think about international volunteering), and teachers have an increased motivation to work in an international team
better visibility of schools in the local community as innovators and drivers of change.
A number of surveys have shown that implementation of European projects, but also volunteering at school, helps improve the school climate, which includes relations between teachers and pupils, relations between teachers, as well as a more productive and better working atmosphere. In addition to the school itself, international volunteering can also have an impact on the local communities themselves:
increased understanding of volunteering in the local community, with emphasis on international volunteering
better facing social challenges
better understanding of social, linguistic and cultural diversity (due to volunteers' stay in the local community)
better adaptability to new circumstances
increased competences of a part of the local community population involved in the implementation of activities carried out by volunteers (e.g. language workshops, skills workshops, etc.).
EXAMPLE: Implementation of volunteering projects in pre-school institutions and schools in Estonia – what does the survey tell us?
In 2013, the Estonian National Agency conducted a survey entitled "Impact of non-formal education in formal educational institutions through the implementation of EVS projects" (EVS activity (European Voluntary Service) is the predecessor of the European Solidarity Corps implemented under the Erasmus+ programme). Eleven kindergartens, four secondary schools and two other formal education institutions participated in the survey. Besides educational institutions, 20 volunteers who carried out activities in schools and kindergartens participated in the survey. Overall, 85 people participated in the survey. Although this is not a representative sample, these results are indicative and can show the trend that international volunteering has in schools.
The aim of the survey was to analyse the results of non-formal volunteering programmes in the formal education system. Specifically, the survey wanted to investigate the development of teaching competences (the importance of non-formal education awareness, volunteering awareness, intercultural learning awareness); to investigate the impact of projects on children and young people involved in activities and to investigate the impact of projects on volunteers (personal and social development, increased skills, employability).
The activities that volunteers implemented were similar in all projects and they included support to teachers in their activities, playing with children (in pre-school institutions), organising different events, helping organise excursions, etc.
The results showed that:
Teachers have developed their own competences because of international volunteers.
The results showed that the teachers' awareness of the importance of non-formal learning in schools has increased. Nearly half of the respondents pointed out that international volunteers increased their awareness of new (active, interactive) learning methods. It is important to note that such activities continued even after volunteers left. It has been proven that teachers have a greater desire to develop their own language skills, and the competence of cultural awareness and understanding and tolerance towards others has also increased. Teachers also believe that projects have increased their interest in volunteering.
External volunteer activities have positively influenced the development of children and young people.
The results showed that 90% of teachers consider volunteering to have positively influenced children and young people, primarily the broadening of horizons, language learning, and the introduction of new cultures. Since volunteers worked with children and young people also outside working hours, this had additional positive effects. The pupils had a more positive attitude about volunteering and greater motivation and desire to learn foreign languages and develop their own communication skills.
International volunteers had a positive impact on the organisational level, especially on people who were in direct contact with volunteers.
According to the respondents, volunteering had the greatest impact on the organisational level through understanding cultural diversity. In addition, co-operation with other organisations within the local community has increased. It was particularly pointed out that international volunteers helped to diversify activities and the greatest impact was seen in the organisation of cultural and leisure activities.
Participation in the projects has affected the increase in volunteers' competences.
Most volunteers have acquired communication skills (in their mother tongue and foreign language), skills of understanding people with a different cultural background, tolerance and budget planning skills. In addition, volunteering also affected volunteers' values, and included a better understanding of others, listening without criticism, a greater sense of personal freedom and tolerance and human rights.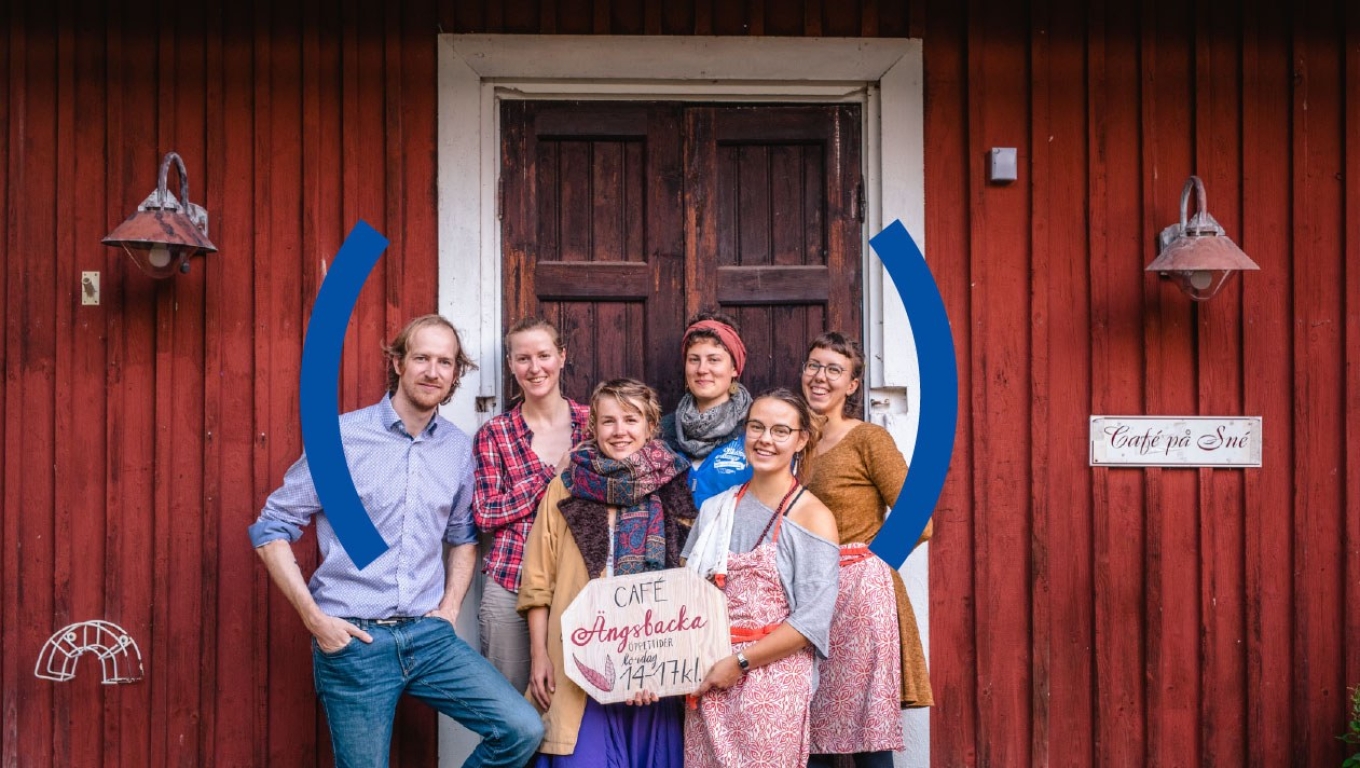 AND WHAT CAN MY SCHOOL DO – WHAT ACTIVITIES CAN BE IMPLEMENTED?
Since the European Solidarity Corps programme is implemented in the field of non-formal education, it is important to note that the activities implemented by international volunteers cannot be linked to the formal curriculum of the school (e.g. teaching), but the volunteer can assist in the implementation of different extracurricular activities in schools.
It is essential to note that volunteers are not allowed to implement their activities on their own, but should be supervised by school employees. This particularly refers to the situation in which activities are implemented with vulnerable groups in schools (children and young people). Volunteers should be supervised while implementing such type of activity.
What is non-formal learning anyway?
Non-formal learning refers to learning that mostly takes place outside the formal education. It has participative and learner-centred approach; it is carried out by learners on a voluntary basis and is therefore closely linked to young people's needs, aspirations and interests. Non-formal learning enables young people to acquire essential competences that contribute to their personal, social and educational development and fosters their active participation in society, thereby improving their employment prospects.
The European Solidarity Corps Programme Guide
Some of the activities that volunteers can implement in schools:
Assistance in the implementation of the activities of the Volunteer club
International volunteers may assist in the implementation of the activities of the Volunteer club. Depending on the activities of the Volunteer club, volunteers can provide assistance in exploring needs, implementing actions or organising specific events. If you don't have a school Volunteer club, volunteers can help establish it at school and set up the whole club together with a teacher or expert associate.
Organisation of events
International volunteers can help organise events that are important for the school. They can organise a festival, a show, a photo exhibition or a film evening for pupils in order to enrich the level of activities carried out and raise them to a higher level. This also applies to various shows and special days organised by schools, which include the Pink Shirt Day, Bread days or similar.
Implementation of workshops on various topics
One of the activities volunteers can carry out concerns the implementation of workshops on various topics – they can be related to communication skills, solidarity, mobility promotion, human rights, media literacy or any topic that will respond to the needs of pupils at your school.
Learning assistance
International volunteers can help teach pupils who need more time to master certain lessons. In addition, volunteers can help organise peer-learning at school and, together with pupils on a daily basis, implement these activities.
Working with gifted pupils
One of the activities volunteers can carry out is work with gifted pupils – sometimes gifted pupils need only to talk to somebody or spend time with somebody (because of frequent exclusion from their peers) and a volunteer can be a person who will help them fill in their free time.
Organisation of humanitarian actions
Schools often conduct humanitarian actions, and volunteers can contribute with their skills in organising those actions. When it comes to fund-raising, acquiring necessities or organisation of events, international volunteers may be involved in various phases (design of messages, poster design, supervision in the funds raising room, etc.).
Implementation of environmental actions
International volunteers can also implement various environmental actions within the school. This may include designing and planting a school garden, planting medicinal herbs with pupils and conducting workshops on these topics. For example, together with pupils, actions can be initiated to collect old corks that are then recycled or can be used to make a wall painting. Volunteers can take care of plants in school or the school garden together with pupils.
Connecting schools with the local community and institutions
Volunteers can visit various institutions in the local community together with pupils and thus implement projects within the local community. This may include visits to homes for the elderly (intergenerational solidarity), visits to libraries (encouraging pupils to read), visits to rehabilitation centres (raising awareness of diversity), visits to reception centres for refugees or links with civil society organisations or institutions (e.g. LLCG, CEA).
Organisation of free time for pupils
The organisation of post-school activities is another activity that international volunteers can implement. Depending on the needs of the pupils, the volunteer can design the free time of the pupils through various activities: sports activities, thematic workshops (e.g. culinary workshops, computing, photography), conversation on an important subject, informing young people about the possibilities of volunteering … opportunities are unlimited. If pupils want to have their own resting place (chill-out room) – they can design this room together with the volunteer and implement post-school activities there.
Implementation of language workshops – the Language club
Volunteers come from different countries and know their mother tongue well. One of the possible activities is the establishment of a Language club in which pupils would continuously learn some foreign language in a non-formal way (through playing and entertainment) and thus improve their competences.
The list of activities is inexhaustible, and it depends on the school itself. The Programme encourages the initiative and entrepreneurship of international volunteers so that together with them you can devise the activities to be implemented. When applying, it is necessary to have an elaborated list of activities that volunteers will implement and in the planning phase, it is important to include the whole team and see in which activities volunteers can contribute.
Remember, all activities need to:
1. contribute to the development of solidarity
2. respond to the needs of the local community
3. have an impact on the target group and the local community.
HOW TO CONNECT THE ACTIVITIES WITH THE WORK OF THE SCHOOL?
In the previous chapter, you could see a range of activities that international volunteers can implement in your school. It is important that volunteers volunteer full-time, i.e. they should have a minimum of 30 and a maximum of 38 working hours per week.
All activities implemented by international volunteers may be linked to a number of cross-curricular themes:
Personal and social development: pupils develop entrepreneurship, respect for others, responsibility and solidarity, all of which can be witnessed in the international volunteers who carry out activities with them
Learning how to learn: pupils, due to international volunteers, can acquire knowledge important for managing their own learning (especially if the learning assistance activity is implemented)
Citizenship education: connecting schools with institutions and conducting workshops on various topics, conducted by volunteers, pupils improve their citizenship competences
Entrepreneurship: through the example of an international volunteer, pupils develop their own initiative, as well as many skills important for entrepreneurship, such as communication skills
Sustainable development: depending on the activities the international volunteer implements with pupils, they develop a sense of the importance of environmental protection and a sense of economic and social sustainability.
Depending on the subject of the project on which the international volunteer will work, other objectives of cross-curricular themes such as health or use of information and communication technology can also be achieved.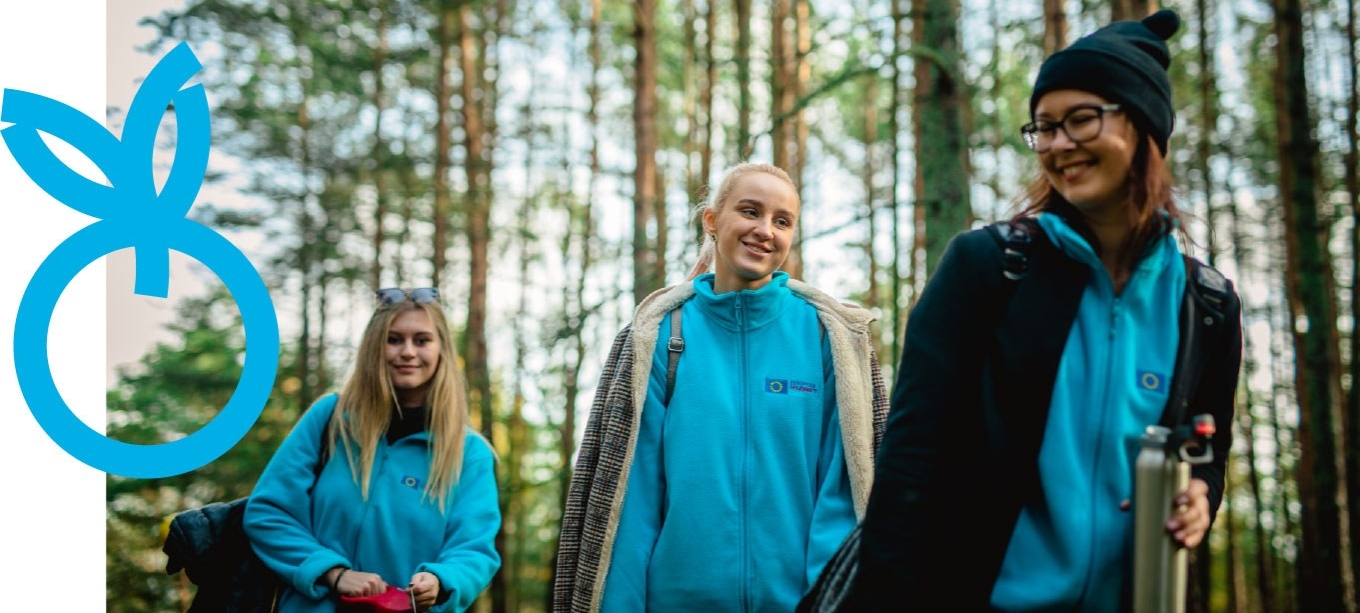 GET INSPIRED: EXAMPLES OF PROJECTS
In this part of the publication, we present examples of volunteering projects implemented under the European Solidarity Corps programme. We hope that they will inspire and encourage you to implement volunteering projects in your schools.
| | |
| --- | --- |
| Project title: | Face to face: health included II |
| Institution: | Center za izobraževanje, rehabilitacijo in usposabljanje Kamnik |
| Country: | Slovenia |
| Brief description of the project: | Within the framework of the project, the Centre decided to admit two volunteers from Portugal and Latvia, who will be involved in various activities. Volunteers will help young people with special needs and accompany them to school, participate in the Centre's (camping) activities, as well as international projects. Volunteers will be a contact point for local and regional organisations and will create new opportunities for cooperation. Volunteers will also present their country and culture to pupils, as well as to everyone else interested in schools, libraries and other organisations. Volunteers will learn more about the methods of teamwork, group dynamics, active listening, experienced pedagogy and project management. In addition, they will improve their knowledge of the needs of people with fewer opportunities and inclusion and will acquire professional and personal skills. Volunteers will be continually supporting the staff working at CIRUS Kamnik. Upon arrival, volunteers will undergo initial training and will be offered support throughout the duration of the project. |
| Additional information on the project: | |
Project title:
European Volunteering Service within ZFP
Institution:
Zentrum für Förderpädagogik
Country:
Belgium
Brief description of the project:
The Centre for Education (ZPF) is an institution consisting of three elementary schools and one high school in which work with pupils with fewer opportunities and pupils with disabilities is regularly undertaken. In a special form of support, more than 100 children and young people receive assistance with learning and homework. With this project, the school wants to enable volunteers to experience the working environment, gain new experience, work together in a team and get involved in the work of the school. During the project, volunteers will be assistants to the teachers and expert associates working with children and young people with fewer opportunities to empower them to be more independent in daily life. In addition, together with young people and children, they will conduct creative, sports and music workshops. In addition, volunteers will help implement activities within other projects, create new activities for children, help organise excursions, organise Parents' day… Finally, volunteers will help children and young people aged 6 to 18 with their homework.

Additional information on the project:

http://bit.do/zpf-be
http://www.zfp.be/
Project title:
Volunteering in a vocational high school, Ambassador of the European Parliament
Institution:
Lycée Paul Langevin
Country:
France
Brief description of the project:
The project aims to promote interculturalism, education for European citizenship and support the mobility of young people. In order to achieve these aims, volunteers will implement activities related to animating pupils, conducting sports activities and playing board games. During volunteering, the volunteers will have the opportunity to work with language or art teachers. All volunteers have their specific tasks. A volunteer coming from Spain will help immigrant pupils from Ecuador to adapt more easily to the school's everyday life. A Romanian volunteer will help conduct a study visit to Romania for pupils and teachers (a total of four trips). If possible, volunteers will also conduct language courses. All volunteers will implement activities related to European citizenship, with the help of the Europe House. First, they will undergo practical training, and then they will have the opportunity to conduct workshops with pupils. Volunteers will spend part of their time in extracurricular activities, especially with pupils from abroad. Finally, volunteers will actively assist in the implementation of projects that the school implements (European, national and school).

Additional information on the project:

http://bit.do/lycee-langevin
https://lyc-langevin-beaucaire.ac-montpellier.fr/en
Project title:
Be youth in the rural heart of Europe
Institution:
Union Nationale Rurale d'Education et de Promotion de l'Est
Country:
France
Brief description of the project:

The aim of this project is to create new, enhanced dynamics in school, to broaden the horizons of pupils, as well as volunteers. This project enables a meeting of different cultures, and the purpose is for volunteers to provide assistance to pupils with difficulties so that they can acquire life-related knowledge and skills as easily as possible. Volunteers will implement sport and animation activities for pupils, provide assistance with homework, and provide assistance during meals to pupils. Furthermore, volunteers will be able to support teachers, especially foreign language and IT teachers. Volunteers will be able to implement "do it yourself" activities. At the school, volunteers, together with a foreign language teacher, will launch a "European Club" to provide pupils with information about different countries through film evenings and guest appearances of people coming from different countries. They will also participate in the preparation of pupils for international activities and in the organisation of creative, artistic and cultural projects. Volunteers will have the opportunity to experience a new culture, develop personal and social skills, as well as teaching skills, and learn how to manage a group of young people.

Additional information on the project:

http://bit.do/lycee-schattenmann
http://www.lycee-schattenmann.org
Project title:
Unstoppable with you
Project title:
Slava Raškaj Educational Centre
Country:
Croatia
Brief description of the project:

With the project "Unstoppable with you", Slava Raškaj Educational Centre aimed at creating a more inclusive society through investing in better integration of pupils with communication difficulties. As part of the project, the Centre received four volunteers from Spain and Croatia who were involved in various activities. Together with professional therapists, volunteers motivated pupils to actively participate in rehabilitation through music therapy, art therapy, kinesiotherapy and work therapy, which resulted in increased motivation, greater advocacy in learning and gaining new perspectives. In addition, during the project, volunteers were assistants to secondary school pupils in creating video-biographies and they acquired new digital skills through this activity, but also helped pupils with communication difficulties to be more visible on the labour market. In addition, volunteers and pupils were involved in implementing the Zero waste programme through blogging, publishing on social networks, informing about the Zero waste action and networking with Zero waste advocates in the local community. With this activity, pupils and volunteers have improved their knowledge of zero waste way of cooking and living, which they will be able to apply in professional and private life. This project emphasised the importance of integrating all members of society and exchanging mutual knowledge and experience in order to make our community more inclusive, solidary and comfortable for life for all its members.

Additional information on the project:

https://unstoppablewithyou.art.blog/
http://bit.do/sraskaj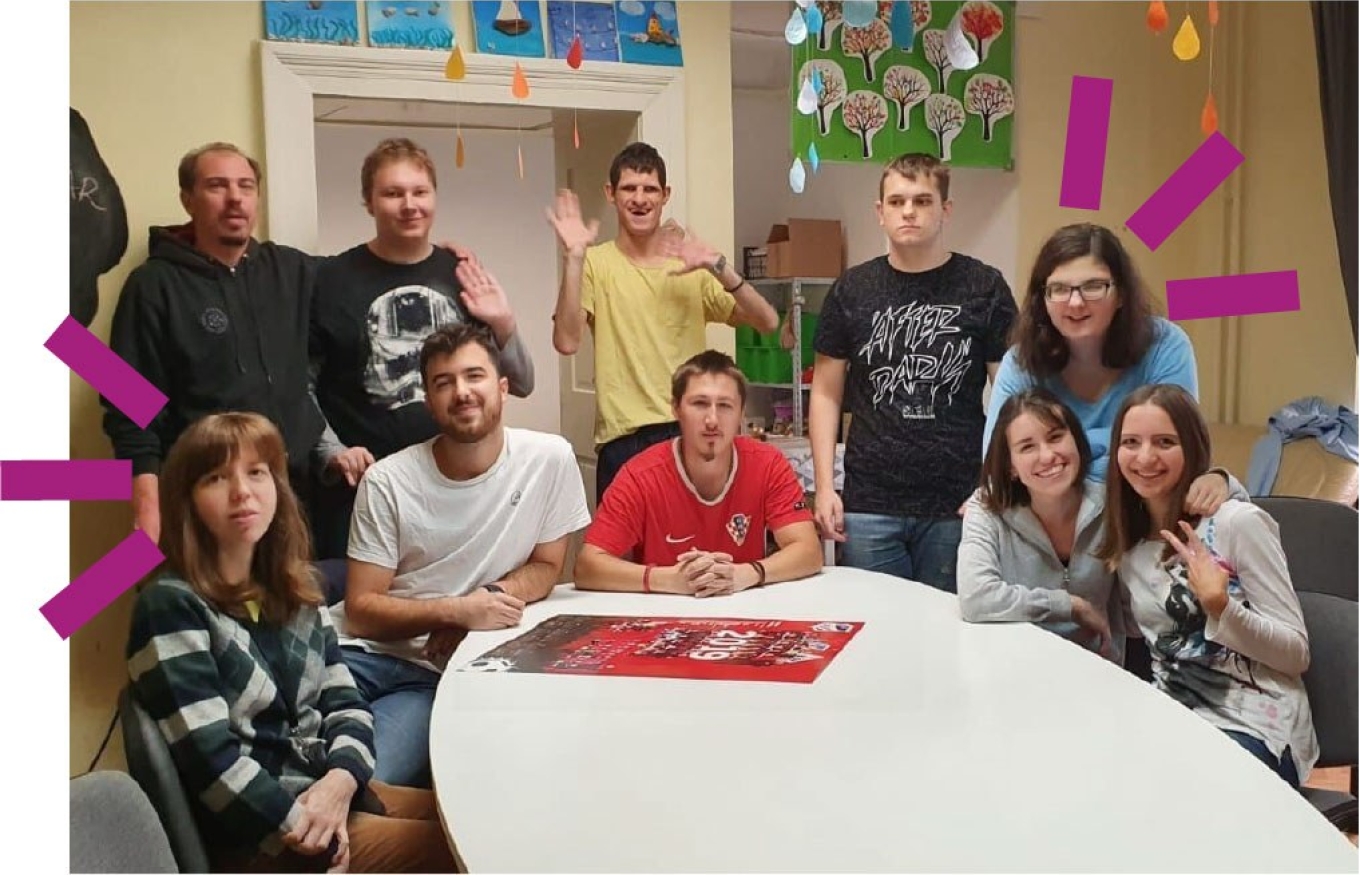 Project title:
Tribo moderna – Capoeira for tolerance and non-violence and Join and include all!
Institution:
Association Amazonas Zagreb
Country:

Croatia

Brief description of the project:

The Association Amazonas was registered in Zagreb in 2004 with the aim of encouraging positive change and social activation through innovation, movement and learning.
The association has implemented a number of international long-term volunteering projects and a traineeships and jobs project under the ESC programme.
In addition, Amazonas cooperates successfully with schools by providing them with an opportunity to enrich their content, and for children to get to know their work through the activities of a volunteer.
Their biggest project Tribo moderna – Capoeira for tolerance and non-violence is a prevention programme aimed at developing the social skills of children at risk, using Capoeira as a working method. The ESC volunteers are involved in the implementation of Capoeira workshops for children as assistants to workshop managers; they help in conducting parts of workshops such as warming up and participate in group activities with children. Volunteer participation in the programme is continuous throughout the school year, which allows participants to make close contact with members of other cultures and encourages them to actively communicate in English.
The Association Amazonas is implementing another volunteering project called Join and include all! which encourages young people, especially young people with fewer opportunities, to actively participate in society through social inclusion and volunteering activities. This project is implemented in partnership and cooperation with secondary schools, and ESC volunteers participate in the implementation of information workshops on mobility opportunities through the presentation of their own experience. Volunteer participation in project implementation puts pupils in direct contact with the members of other cultures, encourages them to actively communicate in English and gives them the opportunity to have a direct personal experience of a mobility programme with which they can identify and which can inspire them.

Additional information on the projects:

https://amazonas.hr/tribo-moderna/
https://amazonas.hr/ukljuci-sve/
Institution:
Siauliu Didzdvario Gymnasium Vilniaus

Country:

Lithuania
Brief description of the project:

Siauliu Didzdvario Gymnasium is a municipal budgetary establishment – higher school in Vilniaus, Lithuania. Since 2007 the school is EVS accredited organization, at this moment it is under process of getting ESC Quality Label. It has already hosted 57 EVS volunteers from all over Europe, and it has sent 27 volunteers from our school and local community to Czech Republic, Bulgaria, Spain, Germany, Poland and Turkey.
At this moment they are implementing Strategic partnership 3 years ESC project "Volunteering for Solidarity Education" and coordinating 18 volunteers: 3 are in our school's Radio club, 2 - in Siauliai School for Speech therapy, 4 in different youth canters and the others are in different kindergartens. The main idea of having international volunteers in their school's radio "Radio club" is intercultural learning during non-formal education, but also, to promote volunteering among school youngsters and local community. Volunteers of the radio station search for information for their radio program, record radio shows, prepare questions for interviewers, create playlist and so on. Also, they are visiting class hours: for discussions on different topics (youth policy, tolerance, refugees, integration, act.), presentations of their countries (it can be during Geography, English lessons), volunteering, workshops (math skills implementation during the project – as monthly budget planning). Watching short movies that need discussions; summer camps, youth exchanges where volunteers are responsible for team work – getting to know each other, team building games, but also, volunteers implement their initiatives.

More informations:

http://www.dg.su.lt/
https://europa.eu/youth/volunteering/organisation/50367_hr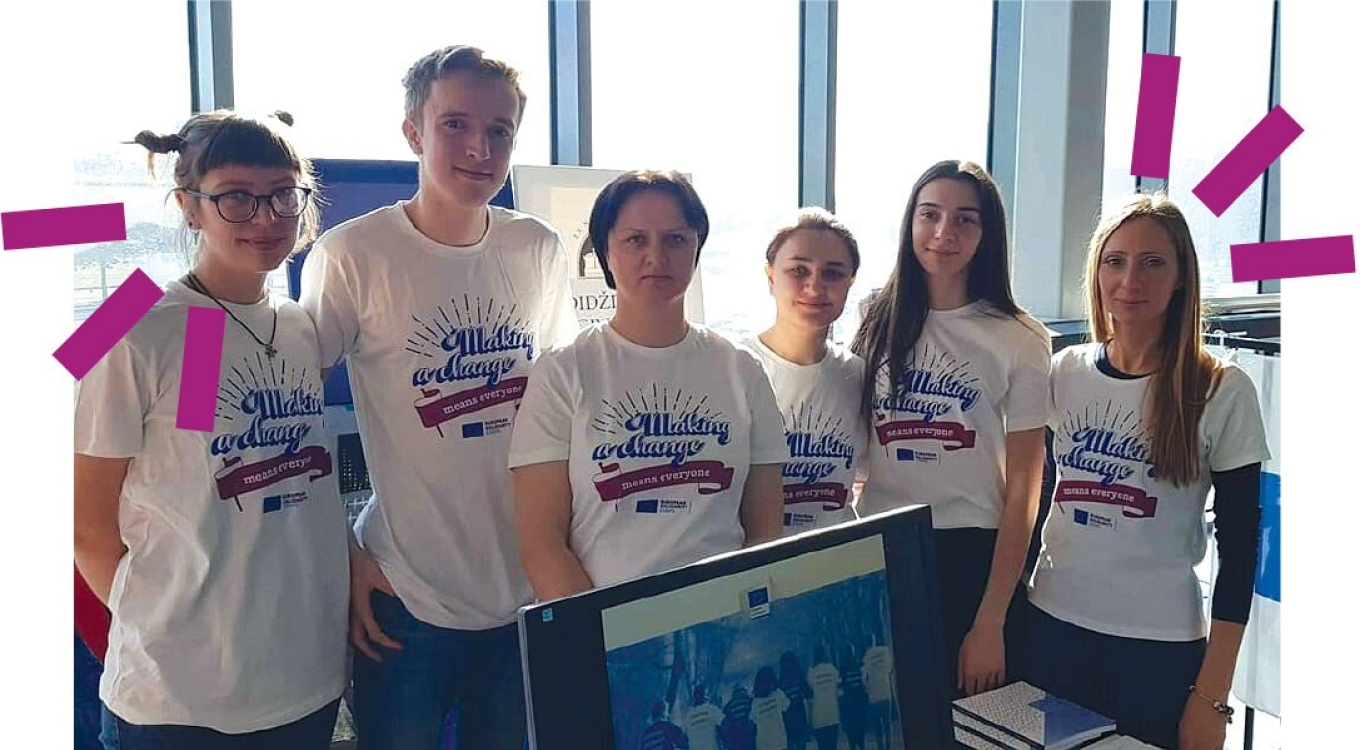 | | |
| --- | --- |
| Institution: | The Kaunas Palemonas Gymnasium Marių |
| Country: | Lithuania |
| Brief description of the project: | The Kaunas Palemonas Gymnasium is a general education school attended by 6-19 years old students in Mariu, Lithuania (391 students this school year). Since 2018, the school implements the project "Whole day school" (VDM) in cooperation with Kaunas non-governmental organization "Patria". The main goal of the project is to provide an opportunity for students aged 6-9 to spend their after-school time safely and meaningfully at school until 17.00. They hosted two volunteers in 2019 and two in 2020. Volunteers in the school assist with the afterschool activities (educational programs, assistance with homework), accompany teachers and students to various trips, help teachers and students with English lessons, and organize their individual activities for the students. The main results of the collaboration with international volunteers are responsible extra "hands", getting to know the cultures of other nations, knowledge of other countries' education systems. developing students 'and teachers' English language and teamwork skills. |
| More informations: | http://bit.do/Pallemono |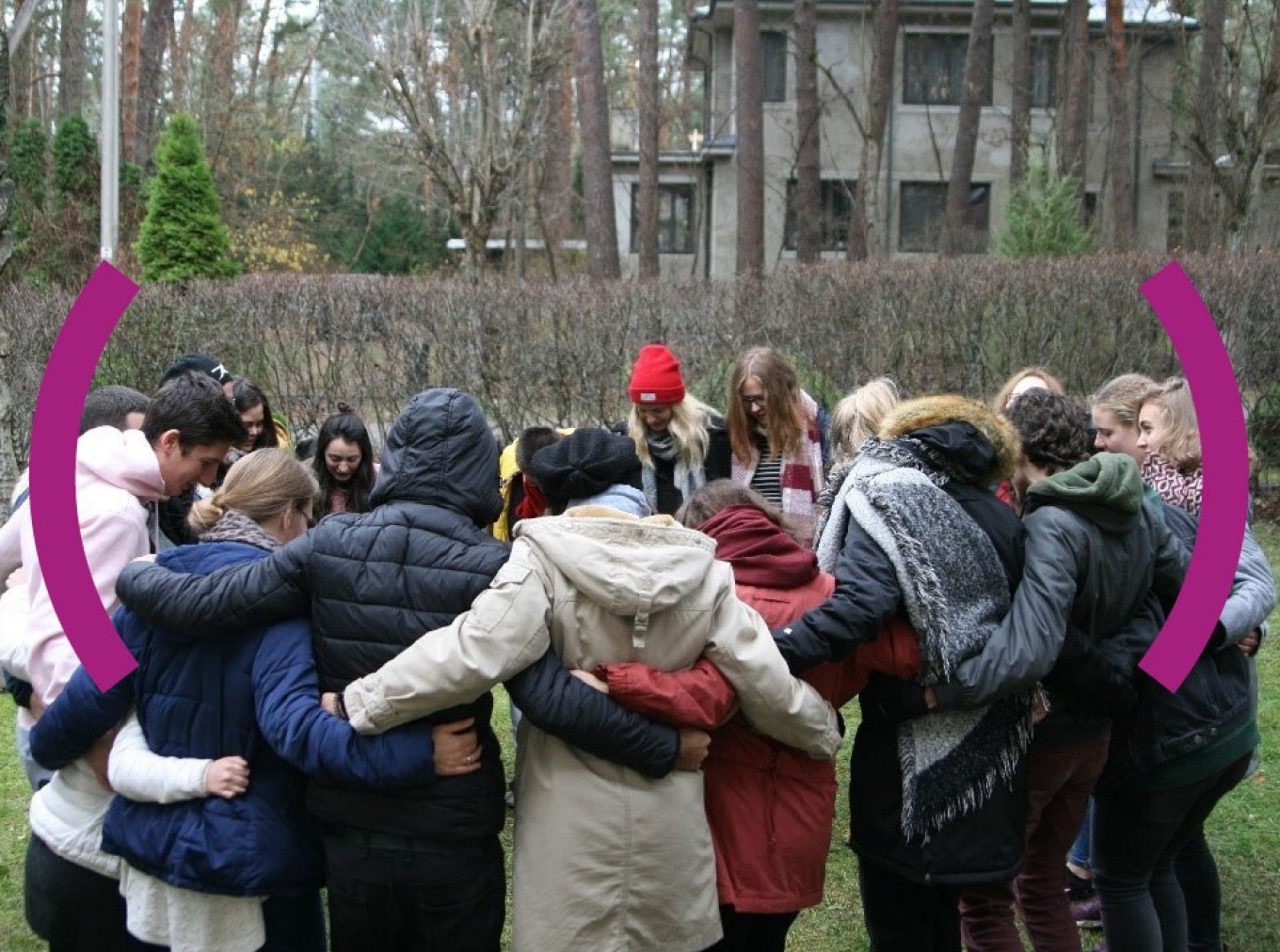 USED SOURCES AND USEFUL LITERATURE
www.europskesnagesolidarnosti.hr

Database of European Solidarity Corps projects, available at:
https://europa.eu/youth/solida...
Association of International and Intercultural Exchange
ANAWOJ. (2017). EVS Academy. Michalowo: ANAWOJ, available at:
http://bit.do/EVS_Academy
Cumulus Consulting OÜ. (2013). Uuring: mitteformaalse hariduse mõju formaalharidusasutuste tegevusele läbi EVT projektide. Tallinn: SA Archimedes Euroopa Noored Eesti büroo. p. 33–37. available at:
http://bit.do/CumulusOU
Rijavec, M., Jurčec, L., Pavlović, V. (2019). Školski volonteri: dobrobiti volontiranja u školama. Zagreb: The Forum for Freedom in Education, available at:
http://bit.do/skolskivolonteri